Nature Island Refresh: The Bush Rums - and more - of Dominica
April 20, 2020
Dominican bush rum. If you haven't tried it, odds are you can parse out its taste by the name: rum infused with herbs, spices, and flora from the earth, a sort of Caribbean moonshine, a natural "Mountain Dew." Dominicans have been pressing sugarcane for centuries—ground zero of any rum—drinking fresh from the stalk or fermenting the sweet stuff into an eyebrow-raiser to be enjoyed between rounds of dominoes. Little is as reliable in the Caribbean as sugarcane rum.
But because bush rum is—by definition—homegrown, you'll never have the same experience twice. Add-ons are usually cinnamon, rosemary (nannie), anise (l'apsent), or pepper (pueve), though you'll find wilder varieties, too, including those infused with ingredients that crawl. There's also a type made with bois bandé, an aphrodisiac, but be careful with that one!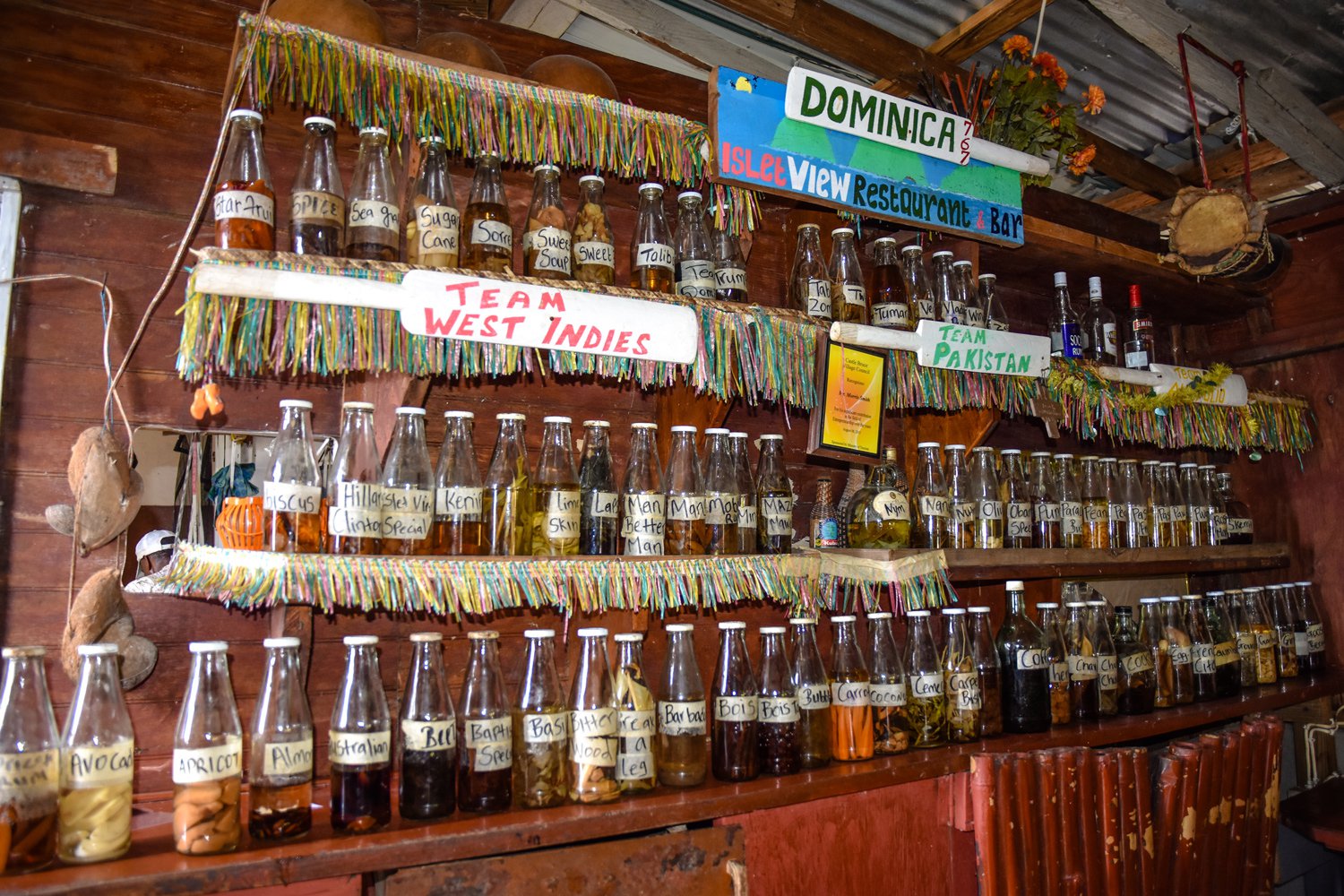 Your experience can be as salt-of-the-earth (or, in this case, sugar) as you like: Stop at Paradise Bar—just outside of Titou Gorge—after your hike to Boiling Lake to give your muscles a necessary kick. You'll be drinking out of unassuming plastic cups, a half-full pitcher of water waiting for the chase. Or head to Pagua Bay Resort, sit by the pool, and keep it authentic with a centipede rum punch.

Which, technically, isn't bush rum—but rum punch is another island staple, nonetheless: It's a sweeter, mixed-drink version of the stuff that'll knock you off your feet. It's especially famous at the Indian River Bush Bar, accessible only via boat ride along the Indian River, setting of Pirates of the Caribbean II. The bar has a dozen different iterations to choose from, though the Dynamite Rum Punch is the one you'll hear everyone raving about (and the one that runs out the quickest!).
Another must-have experience is the coconut rum punch at Batibou Beach. Open only during Dominica's high season (winter-spring), arguably the island's best beach comes with arguably the island's best bar—at the very least, it's the island's best coconut punch. Made with cream from the beach's coconut palms, the drink is smooth and velvety, with notes of nutmeg, cinnamon, and molasses and the tang of fresh coconut and rum.
Then there's Kubuli Beer. Short for Waitukubuli (which, as you might know, is the Kalinago name for the island), Kubuli is good lager pure and simple: malted barley, hops, and water. That may sound more German than Dominican, but the drink is light, airy, fresh, and full-on "Waitukubuli"—the kind you need on a hot summer's day on the island. You'll find it offered everywhere, and you'll find yourself drinking it more often than you would drink any lager back home. It's for the culture, right?
If you shy from alcoholic drinks, know that Dominicans also have a penchant for super-fresh juices—the sweet-yet-tangy passionfruit is a mainstay, as are guava and mango—and herbal teas. Everywhere you go, the theme will be the same: fresh, fresh, fresh.
Recent posts