The Ultimate in Luxury: Dominica's Secret Bay
March 09, 2020
Most resorts will never make the cover of Travel + Leisure. But Dominica's Secret Bay did, its six villas bursting out of the jungle on a rocky promontory overlooking the ocean. It's the kind of place lavish enough for Mick Jagger, where the only finger you'll be lifting is the one wrapped around your champagne glass.
The true "Secret Bay Experience" is about taking a vacation without worry—if you'd like, it's also one without other people. Stay in your villa all week long, ocean views and private swimming pools stealing away your time. Your personal attendant is on-call 24/7, and the concierge will arrange anything you need, from a copy of the New York Times to a driver taking you wherever you want to go, should you want to go.
The villas—two-story oases set apart from both each other and the rest of the island—all contain open-air kitchens, where breakfast is cooked for you, and dinner is either in-villa or at the onsite, five-star restaurant, Zing Zing. Since there are only six villas on the property, the staff knows you by name, knows your preferences, and can treat you to the exact kind of vacation you're looking for.
But the villas and the service are only half the grandeur of a stay at Secret Bay. The experiences—and the ease with which they'll come to you—turn this relaxing luxury escape into an adventurous one to boot: Walk down to Secret Bay's private beach, nabbing kayaks and snorkel gear from Donna. Navigate sea caves at low tide, and break for a private, chef-inspired picnic on the sand. Arrange an excursion with Captain Don to explore the sea on a private boat tour, navigating the edge of the island and the Waitukubuli Trail (including snorkeling along a sunken volcanic cliff, should you so choose). Charter a boat out to Indian River, the setting of Pirates of the Caribbean II. Take cooking classes with the resort's chef—jungle foraging included. Meditate on the Bwa Mang Wellness Pavilion (catch it at sunset), hike to the nearest waterfall, or go hunting for the invasive lionfish.
All this can be arranged through Secret Bay, allowing you to see and experience the island without sacrificing comfort. Odds are no other vacation you have will be quite like it.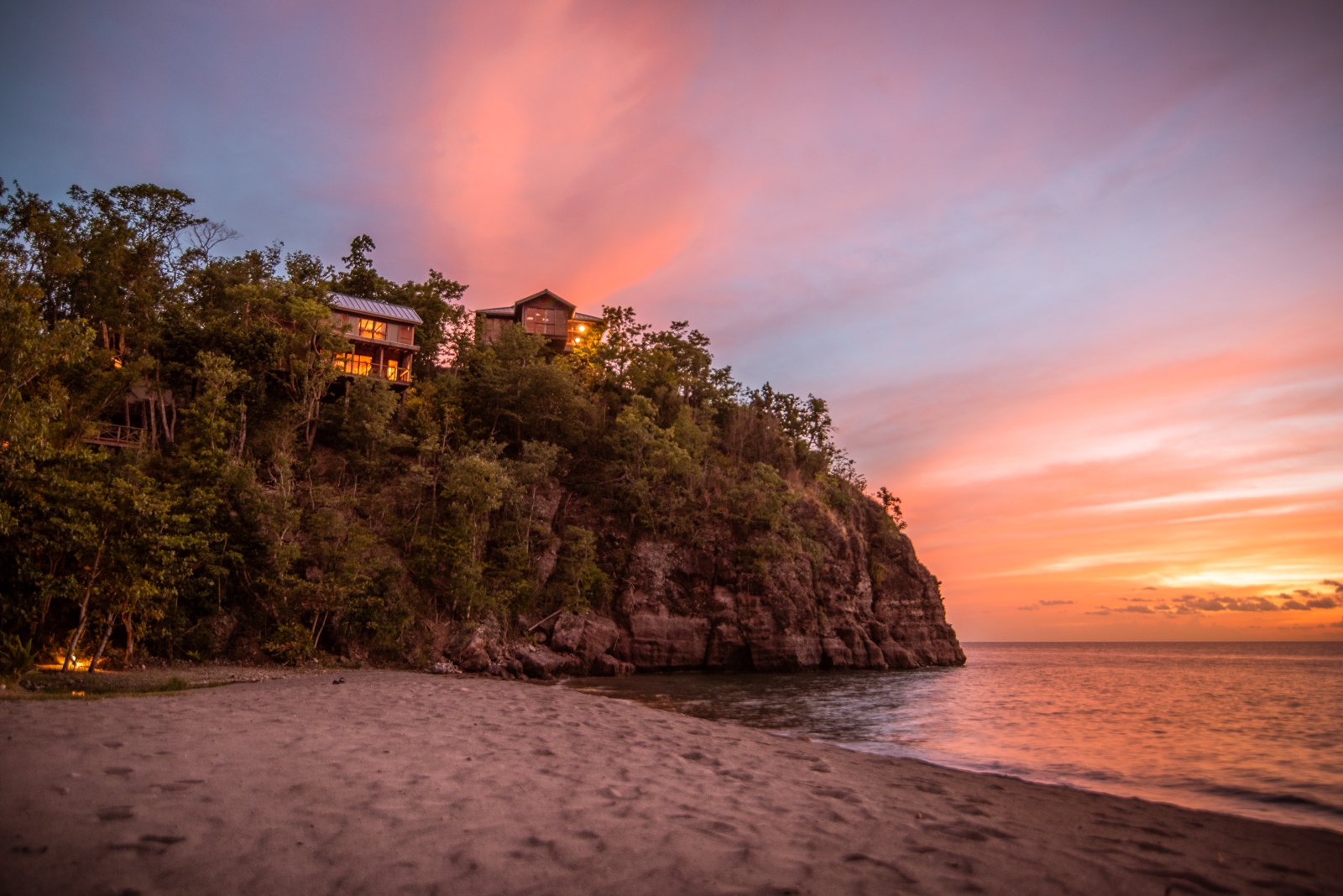 Tips & Details

Secret Bay will pick you up and drop you off at Douglas-Charles Airport and take you everywhere in between. Before your stay, you'll be sent fairly extensive questionnaires, making sure everything is to your liking upon arrival.
Bring whatever necessities you deem fit, but know that Secret Bay can take care of a lot of the basics, from aloe vera to dry bags for your water adventures. Know, also, that you can customize the kind of experience you're looking for: If you'd like to be left alone for a week in your oceanside villa, that's an option. If you'd like to sit down with the staff and swap stories over cocktails, that's an option. Heck, if you'd like a small jazz concert at your dinner, it can be arranged. At Secret Bay, your imagination is your only limit.
Recent posts