7 epic adventures you didn't know were possible in Dominica
February 24, 2020
No one would blame you if you had no idea that Dominica is known as the Caribbean's "Nature Island." Heck, no one would blame you if you were unsure how to pronounce Dominica right now. Ready to learn? It's domin-EE-ka. The island is slowly becoming more popular as adventurers, nature lovers, and Caribbean aficionados seek out something out of the ordinary. Something less chain-y. Something more local.
So put this garden isle on your travel list—and in case the photos alone aren't inspiration enough, here are seven epic adventures to look forward to.
1. Catching sight of sperm whales — all year long
The waters around Dominica are the only place on the entire planet where sperm whales reside 365 days a year. But if you want to make 99.9% sure you see these amazing creatures, visit between November and March. Safari companies like Waitukubuli Adventure Tour Co. offer guided tours with whale-tracking pros. They head out from Portsmouth, but you can also hook up with a trip around Scotts Head or Roseau. And for the record, islanders take not disturbing the whales very seriously.
Note: Beyond sperm whales, one of the largest mammals in the world... just saying—there are plenty of other species you'll glimpse on a tour, such as the short-finned pilot whale and different kinds of dolphins.
2. Hiking to Boiling Lake
Dominica has the second-largest boiling lake in the world. The flooded fumarole sits on a mountain summit, and to get there requires a round-trip hike of a little over eight miles. Do yourself a favor and go with a guide who knows the route. Is it worth the day spent hiking and the day afterward spent recuperating? Absolutely.
The trail starts at the village of Laudat, just east of Roseau, before passing through Titou Gorge and dropping into the ominously named Valley of Desolation. You'll gain and lose significant elevation and observe marked transformations in vegetation accordingly. There's also a river crossing the trail toward the halfway point, so bring those extra socks!
3. Getting misted by waterfalls
Dominica gets a ton of rainfall, and the country's many rivers and waterfalls tend to run strong all year. There are far too many to list here, but a few standout faves include:
Trafalgar Falls, close to Roseau, is popular among tourists because you get two waterfalls in one go, one hot and one cold. Colorful butterflies, birds, reptiles, and some alien-like insects are a definite bonus if you keep your eye out.

Emerald Pool, which is very popular, is an idyllic swimming hole fed by a 40-foot waterfall. Its waters turn emerald as they reflect the leafy surroundings.

Victoria Falls, Middleham Falls, and Sari Sari Falls are also worth the workout (all are reached via modest hikes).
4. Knocking back a local bush rum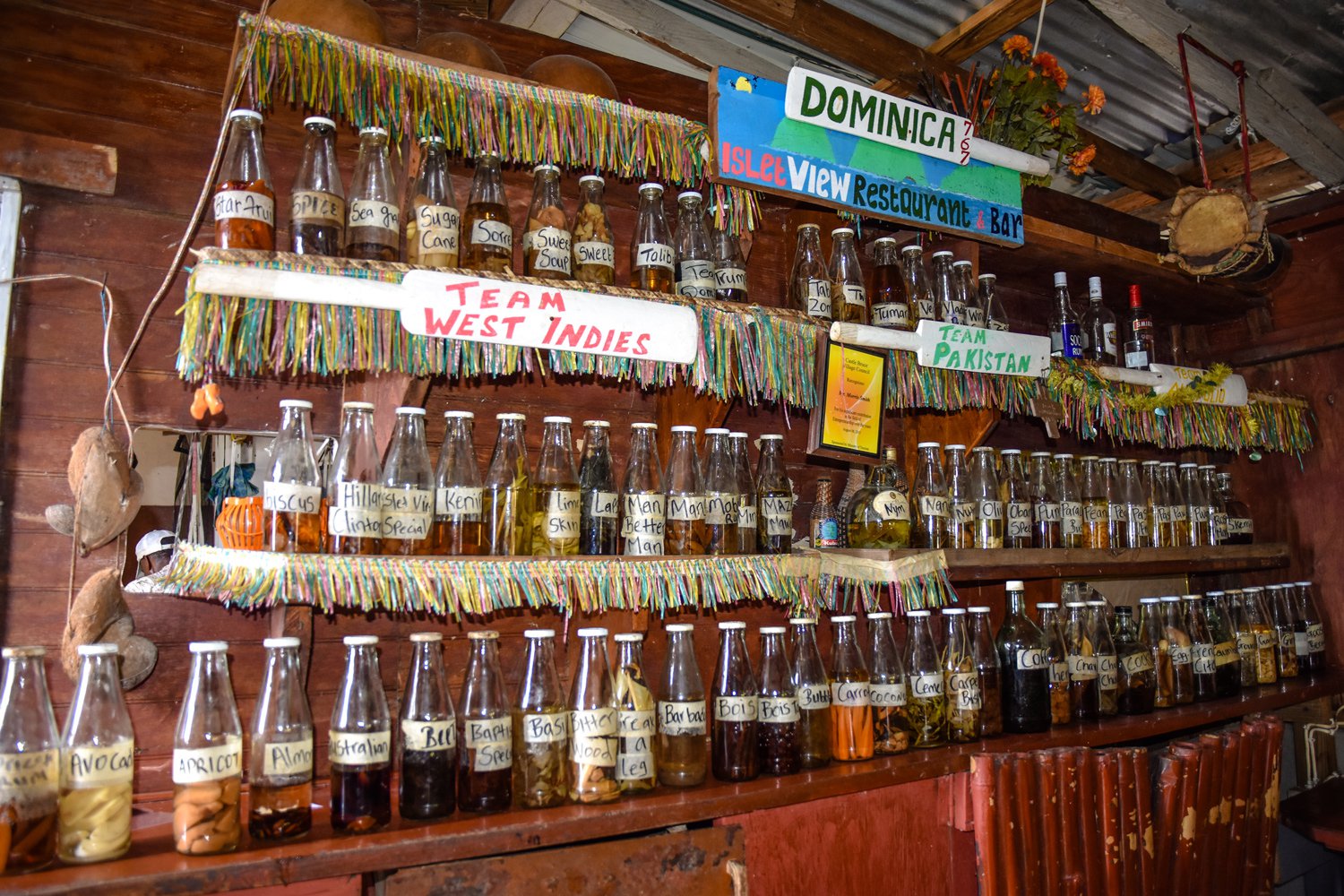 It's the drink of the island, and you shouldn't miss it. The bush rums here know no bounds—we're talking rum aged with added flowers, twigs, plants—the literal taste of the Dominican countryside. Don't take your first sip straight — go for a rum punch and then decide if you want to lean in.
Foodie spots around the island add mango, maize, guava, passionfruit, paw-paw, kenip (Spanish lime), carrot, beet, hibiscus, or ginger. Or, for the more adventurous, you can find rum mixed with grasshoppers, centipedes, slugs, and lizards. When in Rome?
5. Soaking in some serious hot springs
Dominica was formed by volcanoes, and where there are volcanoes, there are usually hot springs. You'll find them here in spades. Bongo Baths, Tia's, Ti Kwen Glo Cho, D'Escape, and Screws are all natural hot tubs set right in the rainforest (with varying degrees of development). Plenty more can be found in rivers and even with ocean views. Just don't assume Mother Nature has behaved recently, and check around to see if the one you're headed to is currently accessible.
6. Taking in the country's storied past
Dominica has witnessed many different forms of life: it was once home to Arawak and Carib Indians, and it has since been impacted by waves of African, English, and French immigrants. You'll see signs of this cultural hodgepodge in everything from street names to the island's traditions and cultural sites.
Locals speak English and Creole, a blend of English, French, African, and German. The Kalinago, descendants of the original Carib inhabitants, still reside on Dominica, in the Kalinago Territory. If you visit, you can watch a traditional dance, peruse their arts and crafts, and try callaloo soup, the national dish, prepared with coconut milk and smoked meats.
Or check out the festival scene:
Carnival "Mas Domnik – The Real Mas,"

is usually celebrated in February or

March and lasts two days. Dominican culture will be on full display here, along with all kinds of festivities, food, and mini-events.
The Jazz 'N Creole Festival is held in May at Fort Shirley and features performances by both local and international artists.

The World Creole Music Festival takes place in late October, when local and international reggae, dancehall, and calypso artists put on a three-day show. This is a good chance to see locals wearing traditional Dominican clothing.
7. Diving into some of the world's prettiest waters
Dominica is called "The Nature Island of the Caribbean" for a reason, and that moniker extends to its waters. Consistently rated one of the top 10 dive destinations in the world, the water is warm, the currents are few, and visibility is routinely 50+ feet. Coral reefs, pods of whales, tons of marine life, and volcanic walls and pinnacles can be found in any direction, but most dive sites are clustered on the western side of the island.
Divers of any skill level should check out Champagne Reef, where bubbles of volcanic gas spring from tiny vents in the ocean floor. As you descend, you'll see crabs, eels, trunkfish, sponges, soldierfish, urchins, soapfish, porcupinefish, fireworms, and a hundred unidentifiable others. Scotts Head, Swiss Cheese, and Dangleben's Pinnacles are three other awesome spots to check out. They're good for snorkeling, so come as you are!
Recent posts